OPEN DOOR CONVERSATIONS WITH OLIVIA BERTUS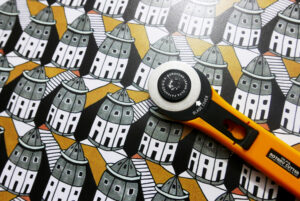 "When we went on holidays, my parents both took their drawing stuff and we made walks for many, many hours. We sat on mountains with big rocks and my mom brought something to eat and they both were sketching or my mom makes water paints (watercolors)."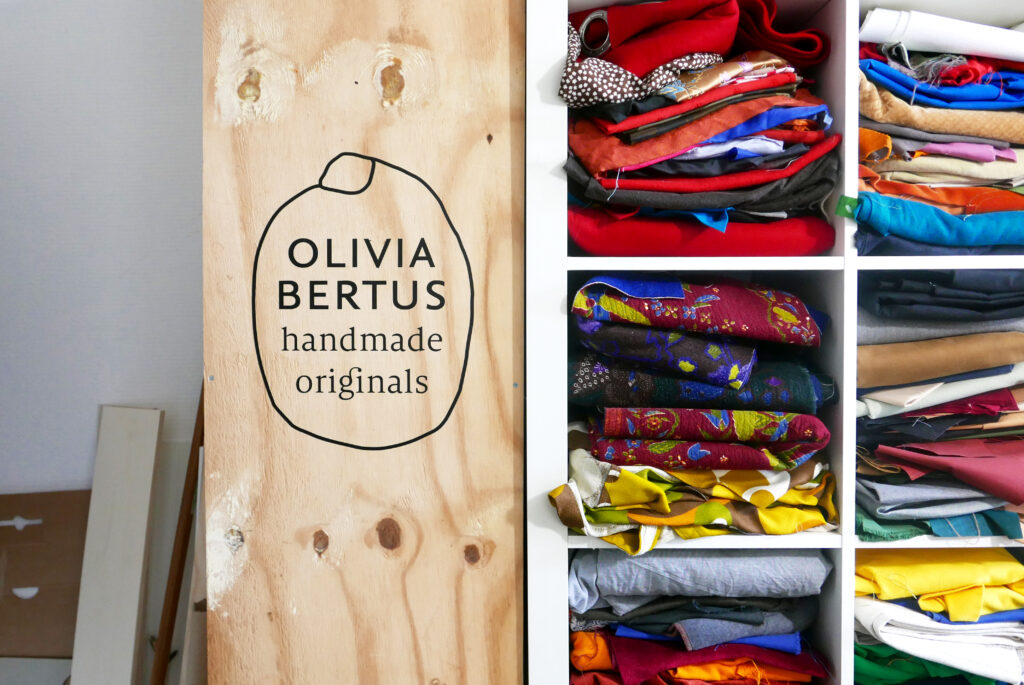 I was born in 1979 in Maastricht, I have two sisters and a brother. My parents were both artists and my dad- he died two years ago- but he was a painter and he made mixed etchings and illustrations from landscapes and portraits, everything. My mom makes ceramic works, very personal, all her pots have a story, you know. And she gives workshops. We lived in Maastricht our whole childhood, we had no television so we played outside. We were drawing a lot, reading books. When we went on holidays, my parents both took their drawing stuff and we made walks for many, many hours. We sat on mountains with big rocks and my mom brought something to eat and they both were sketching or my mom makes water paints (watercolors).
So we learned that from a very young age, I do the same now. When we go on holiday, I take my sketchbook and everyday I draw a pattern. And my kids, they also draw everyday. And sometimes, now very recently, they like to make patterns too. They are like: 'Oh, I'm going to make a pattern.' I'm very happy when I see that because it (drawing) gives me so much joy and I really hope they can have the same experience. Like doing something that gives fulfillment.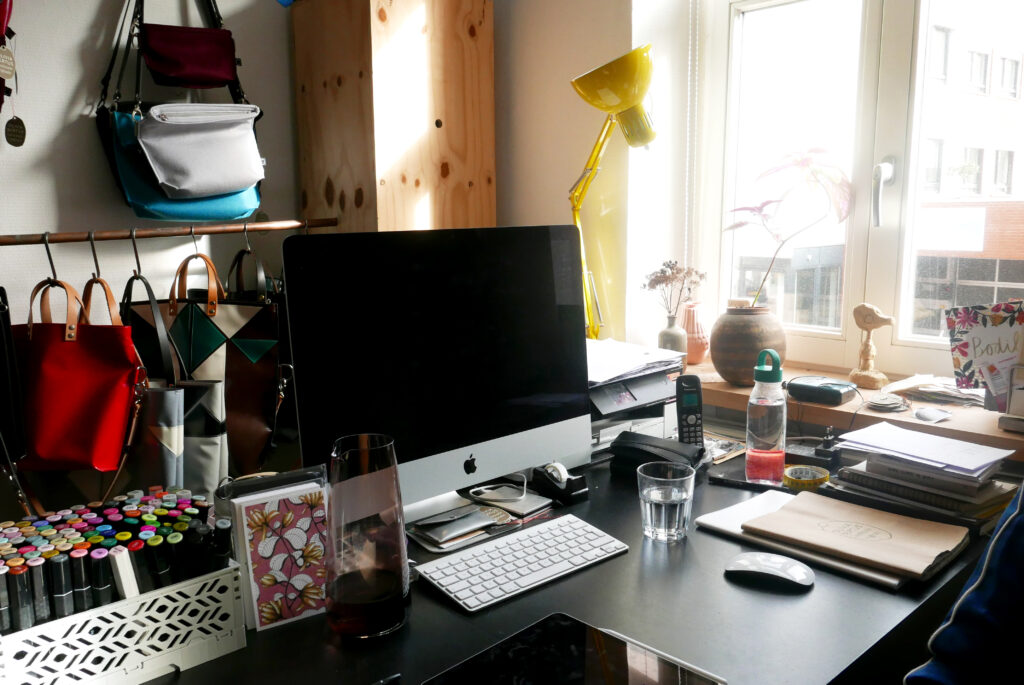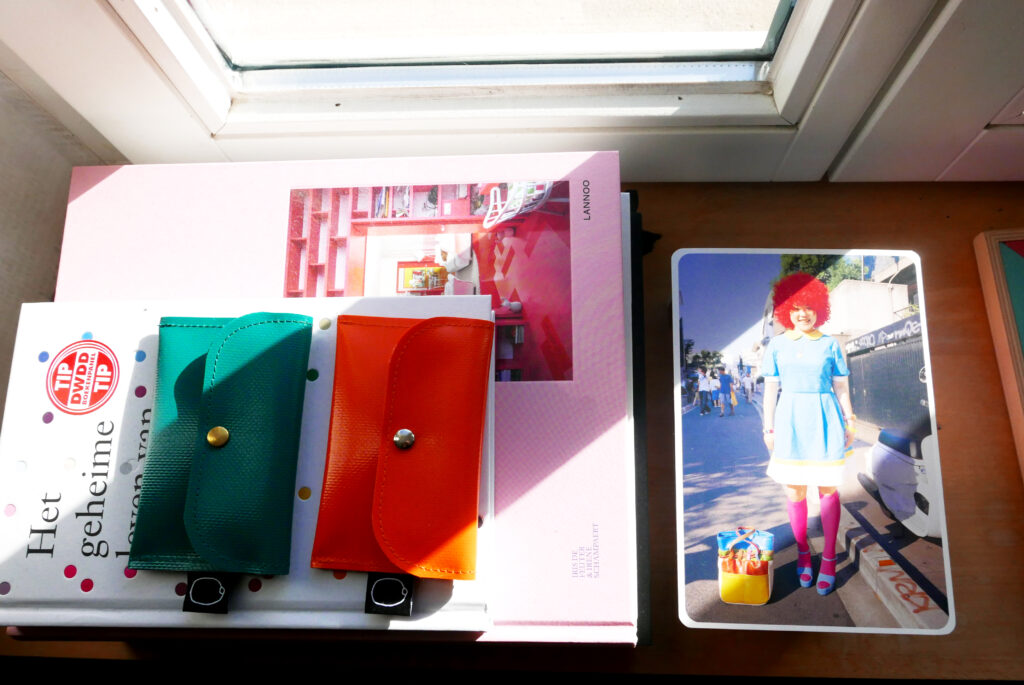 I went to the Waldorf Schoolen in Maastricht. We all did and after that I went to the Art Academy. All my work was very colorful and very pattern-like. So if I have a chance to make a pattern, I did that.  So the teachers said you should choose textile design, because I was not sure, maybe graphic design. I studied it (textile design) for four years and I had this internship at Vlisco.
That was really a cool thing. I could make the patterns very big with paint. I wish I could work there when I was done with school, but they didn't need someone. I started immediately after my graduation with making bags and small stuff that I could sell, like I saw my parents do, selling their own stuff. And I grew very organically from there, like it developed into way more like what I make now. Like that's me. It's very personal and if I like it, that's my measuring tool. I don't make stuff I would never wear myself.
On deciding to become an artist
Yeah, that's hard. I think it was from when I was a kid; I was drawing a lot so it was for me, very natural to go and study art. It was a natural process so I really followed that.  It was not like I was growing up: 'Oh, I'm going to be an artist,' it was the opposite. We saw the struggle of our parents and we were really like: 'Oh no, we are not going to do that.' We just want to work from 9-5 and get paid and get a monthly salary and of course, my sisters and I, the three of us are independent.  My sister is a graphic designer and she has many companies she works for. But she is very good, and work comes to her and she has never free time. My other sister lives in Iceland and she works with horses. She has a big farm and trains them.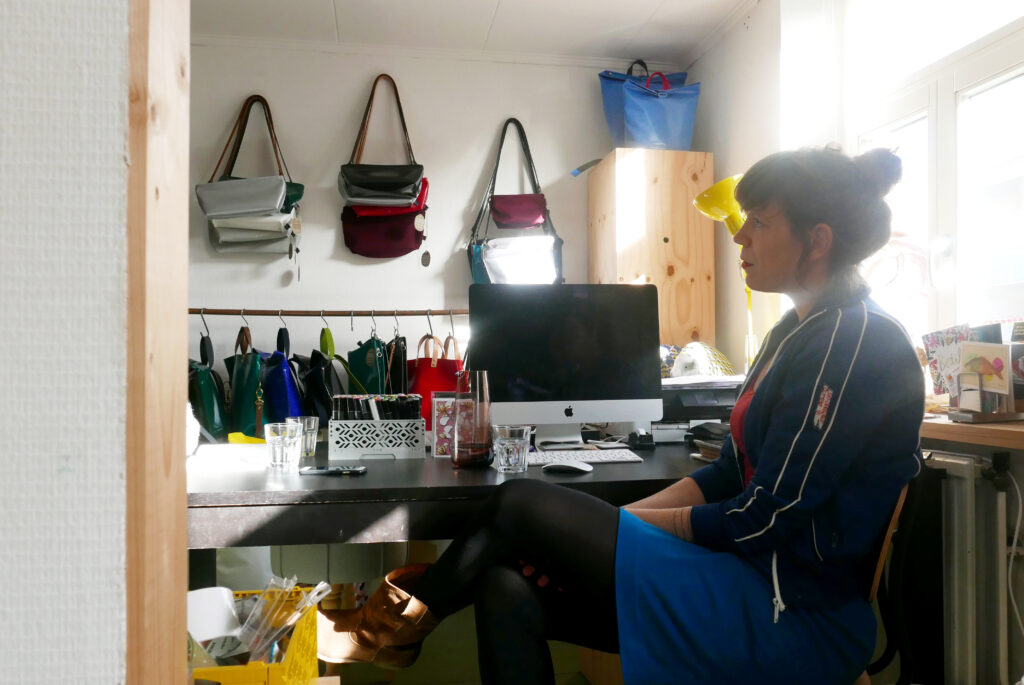 On drawing patterns
I have different ways, you know? Before I was always like: 'Oh I'm going to draw flowers' and it was somewhere in my head, it was never really literally like I saw that flower and I'm gonna make that. It was things that are in my head and I just start and it comes by itself and it's a natural process. Also with geometric patterns, I just start and it just comes. And of course it's somewhere in my head.
Now since a few years, I'm more…really inspired by something I see. So the magnolia tree in my garden or going on holiday and, I see all these shapes, or manhole covers…everything I see can be an inspiration. And it's also like with the colors. It can be random like seeing a group and thinking: 'Oh! I'm gonna need to make a pattern out of these.' And sometimes it's more thought through and that would look great on a wall or not, or would it fit on my couch, you know? But for me it's a very natural way of working. I don't have to do a lot of effort to get there. It comes very easily, so it doesn't feel like work.  It is, but it doesn't feel like work. I made it my work, you know? But it feels, like, the best. I'm very happy, I'm very lucky, I feel very lucky that I can do this.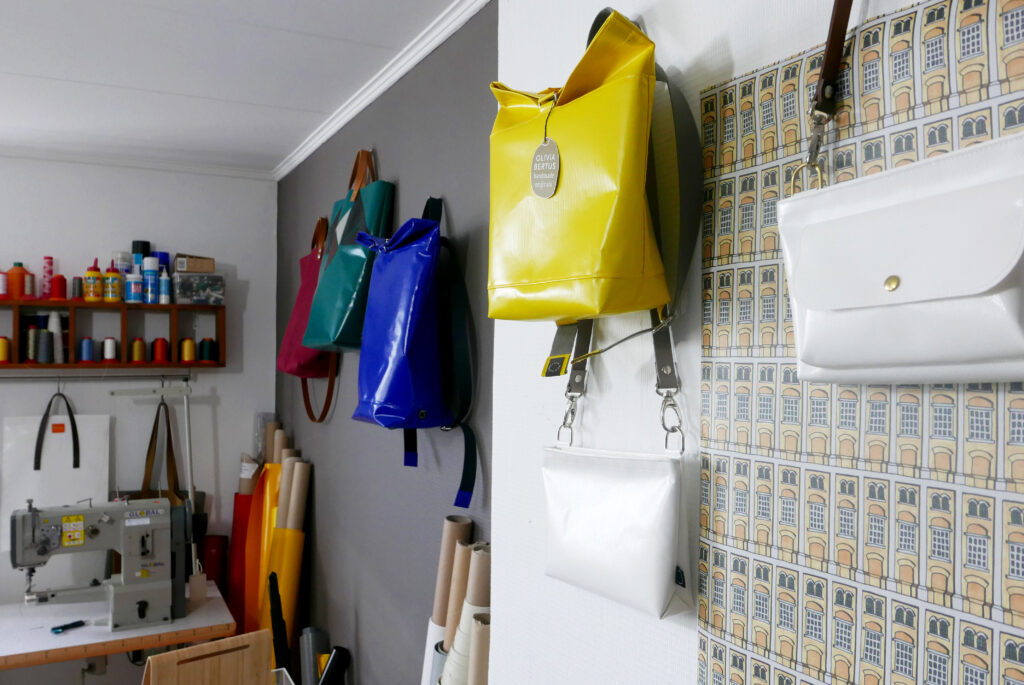 Her routine
I now schedule it (her work) when the kids are at school, so I can start at half past 8 here and then it's half past 2. I'm always just on time (for pick-up), I go as late as possible and I bike to school and "poof", get them there and get them here. So I take all those hours and then, if I really have a commission or there is something, then they (her kids) are here and I have to work here and they can be here, or in their rooms playing. At night, until 9 I am here, working on the website, doing emails, or on the patterns, making them into repeat patterns on the Ipad.
Sometimes I thought, should I have a studio somewhere else, it's more professional. Sometimes, it feels more of a hobby when you have your room in your house or something, but for me it's real work. But I love to integrate it in my life, to be able to be here as much as possible and as a Mom, (pauses) it would be really difficult to have it somewhere else. So, I really love it, it works!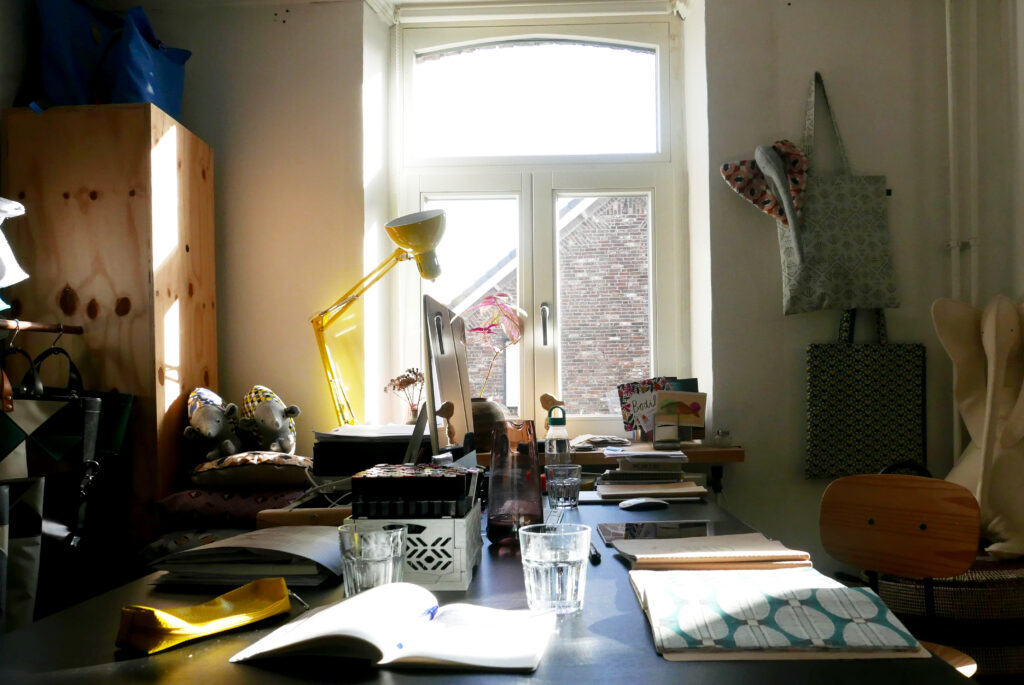 How she works
I do everything myself. It's really cool because I worked also four years for a company here in Maastricht as a soft goods designer, "Green Tom", the stroller. I was always this independent, small business and I see how much you can get done if you are independent and small. Instead of going through all these processes before you can be able to really get a product out there, you know, with a company, it's really much different.  But I like to be independent.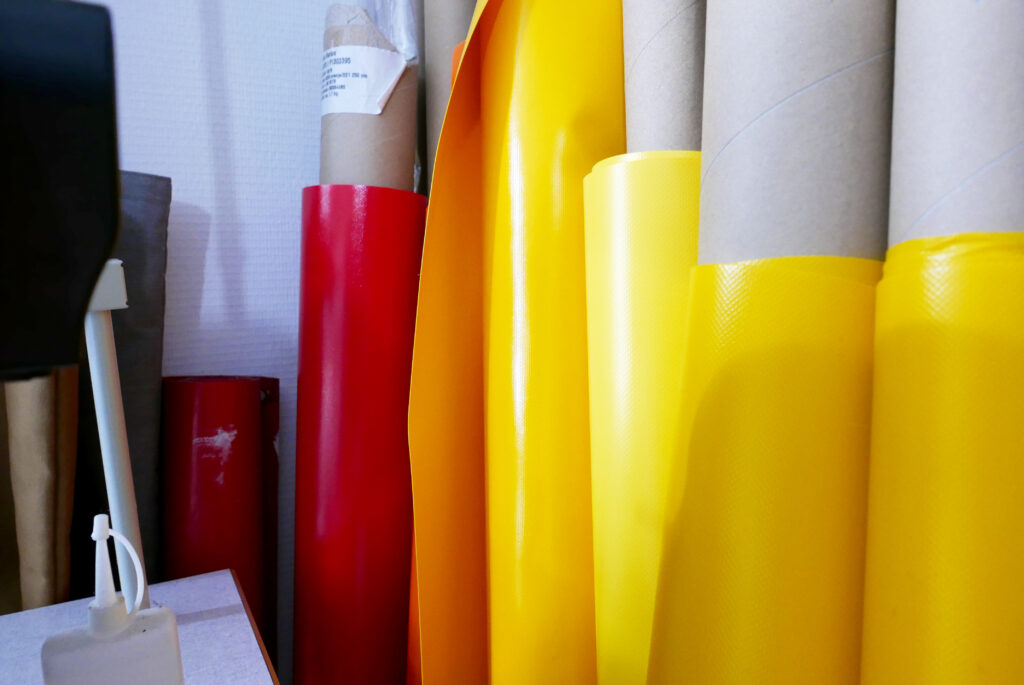 Materials
The vintage fabrics I bought at secondhand stores, old ladies said: 'I have a box of fabrics here in the attic; do you want to have them?' I said: 'Okay!'
Yeah, it's a mix of everything and some new, upholstery fabrics, Vlisco fabrics, some of them are from an African country, really African fabrics. Vlisco is from the Netherlands. But also tent fabric, leftovers from a tent company.  I'm not sure what I'll do with them because I'm now, since a few years, only working with my own fabrics and I like that part, so, I use the solid color cotton fabrics, but the other fabrics, with the pattern, I don't know what to do with them.  I need to still find a solution for them.  I have to figure that out.
Current projects
I have to get the hand drawings and digitalize them, you know? So I'm working on this one right now (points to patterns in books). I started with this on a holiday in France. I took this (her notebook) and some pens and thought; maybe I have some time to draw. And I started. So I have now four (completed notebooks).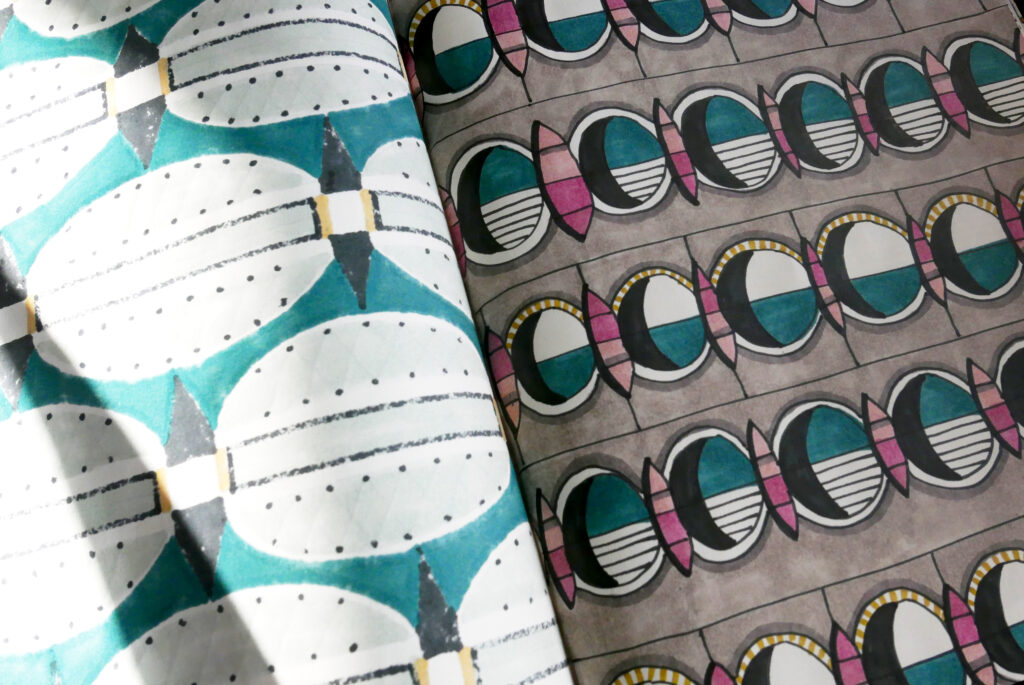 I scan them (patterns) and I open them in Photoshop. I can show you here. This, I drew it not thinking about the fact that this needs to repeat. It looks like a pattern already, but it's not the smallest part, the "eenheid", I don't know the English word. So I scan it, and I use something in Photoshop so the bottom and the top come together… so like "folding over" and now you see that it's not correct. So with this, I can draw and erase. But if you make it really big, you see all these…flaws and then I make it good in a way that I approve it. I don't want to make it perfect, its too computerized, too digital.  I like this (pointing to a line), it's just not perfect. So that's how I work and when I have them all (the pattern), then I want them on wallpaper and fabric so I can use them inside my bags. But I also had it printed on tarpauline, like banner material.  I can make different things. I wanted to make a backpack with the front part with tarpaulin. But also maybe wallets, small pencil cases, wash bags, different things, or pillows. I'm not really sure yet, it will evolve or come.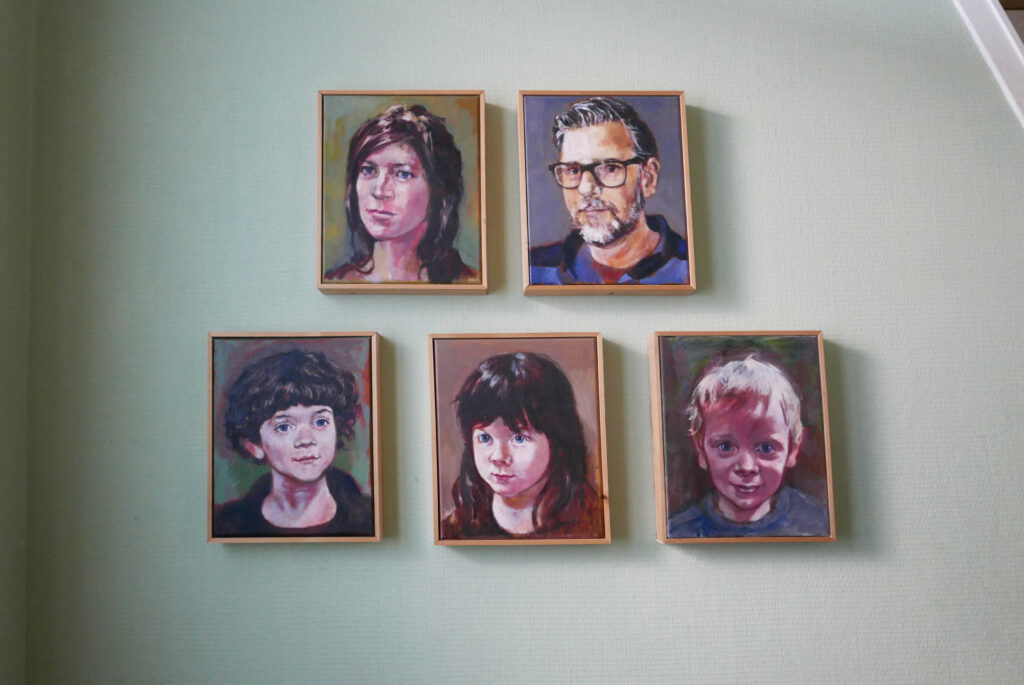 On the future
I hope I'm still doing what I do actually. Maybe sell a bit more.  You know, more regular. It's not always this highs and lows. I think that's part of the whole deal, but you know, having the wallpapers and patterns. Abroad also, like this opportunity in Dusseldorf, they (a store) bought so much stuff from me just to put it in their window.  I really love to have this personal contact with the sellers and retailers. It really means a lot like if people really trust in your work. And they can sell it better than I can. I really hate the part of you have to sell your own work. You have to, but it's not my favorite. I think that's with all artists, you have a few that can really sell their things, but maybe they are also more into marketing. I think they are actually real jobs, so, no, it's not my thing.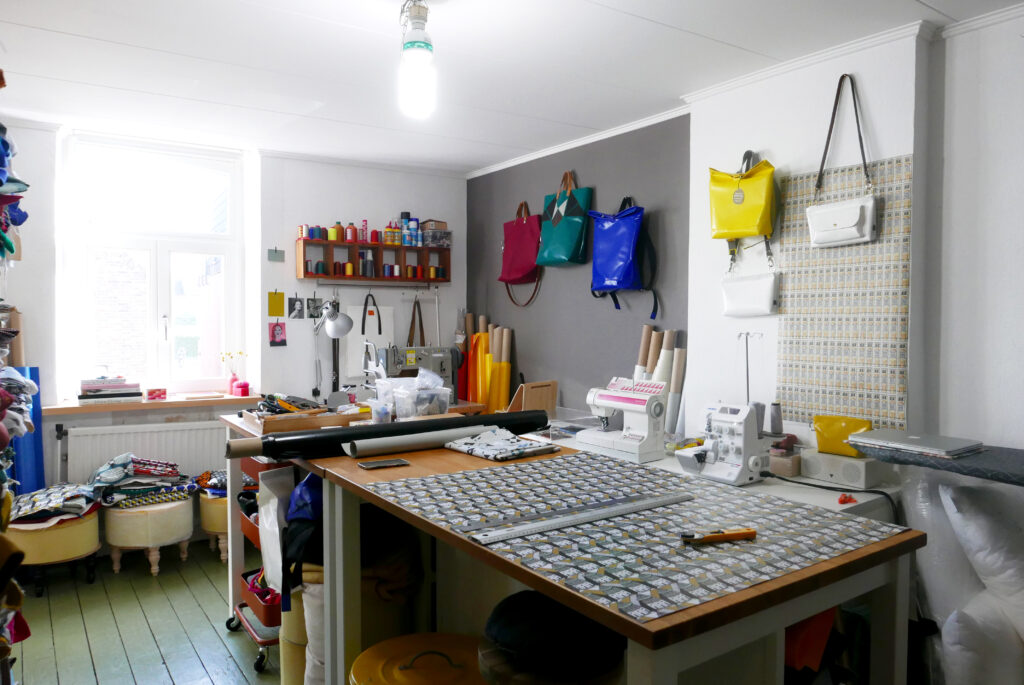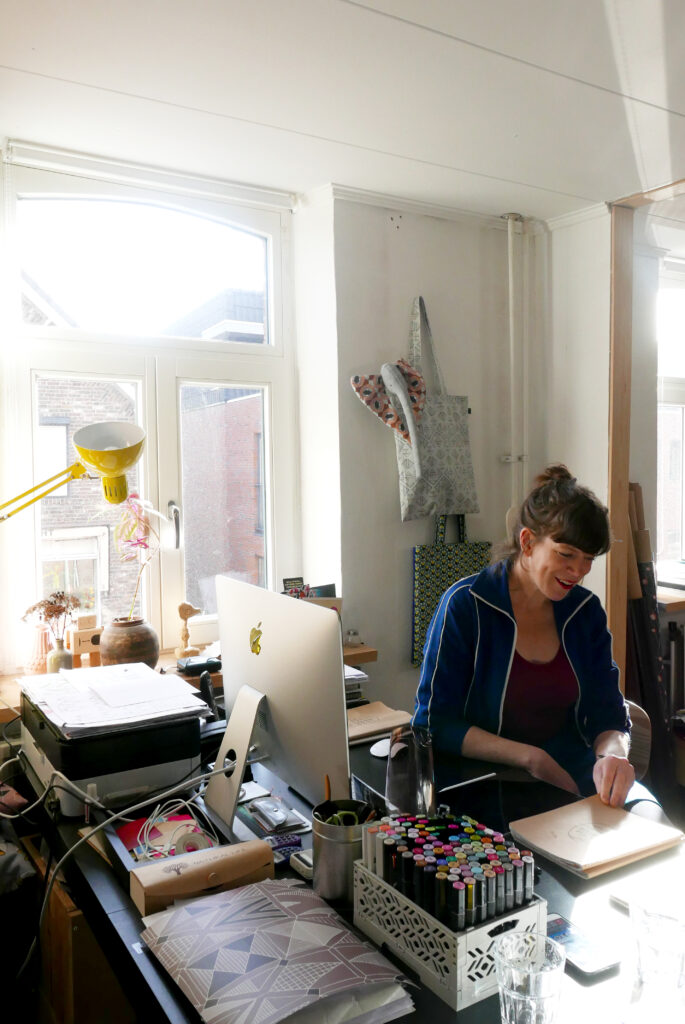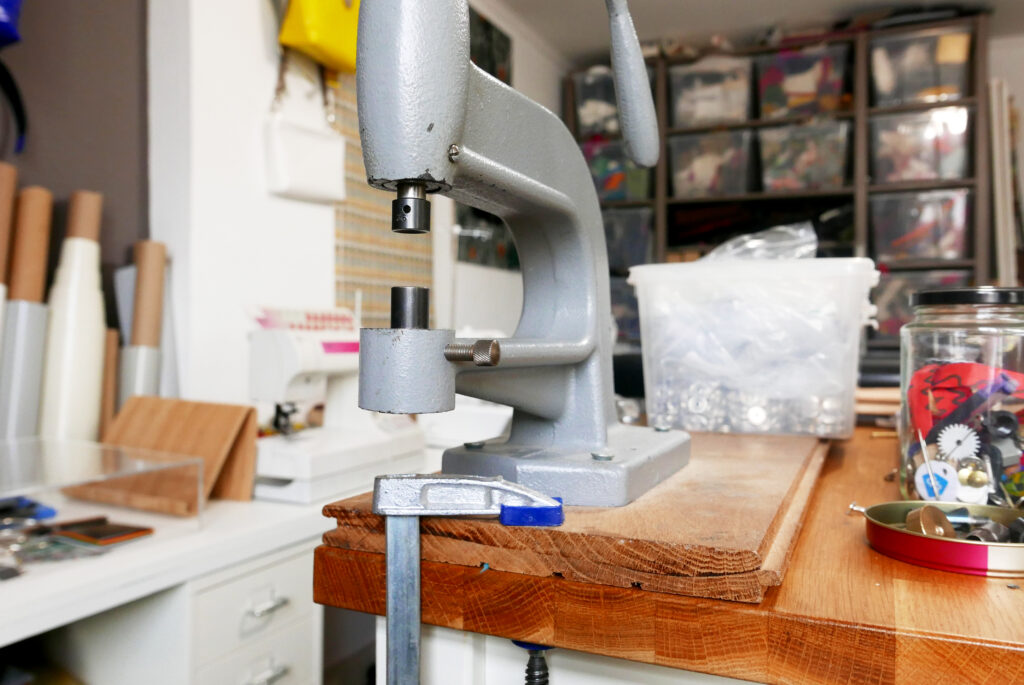 I have those moments of course, that I really feel down. "Nobody likes it, it's just me." I had this a half year ago or so, I felt really depressed about it, but I think that's also normal. Because then you can make a choice, do I continue or not, but for me it would be never an option. I will never stop with doing this. When I worked at Green Tom, I did that for two days a week. I always found I had way too less time for my own work. So I quit there a little more than a year ago and that feels really good. But, yeah, I miss working with colleagues and the green part, making a change for our kids and changing the world in a really little bit. Having your paycheck every month was also a great thing and it made my own work way more relaxed about it. If there comes another opportunity, maybe I would take it you know? But I would really have to feel like I would be appreciated for what I do.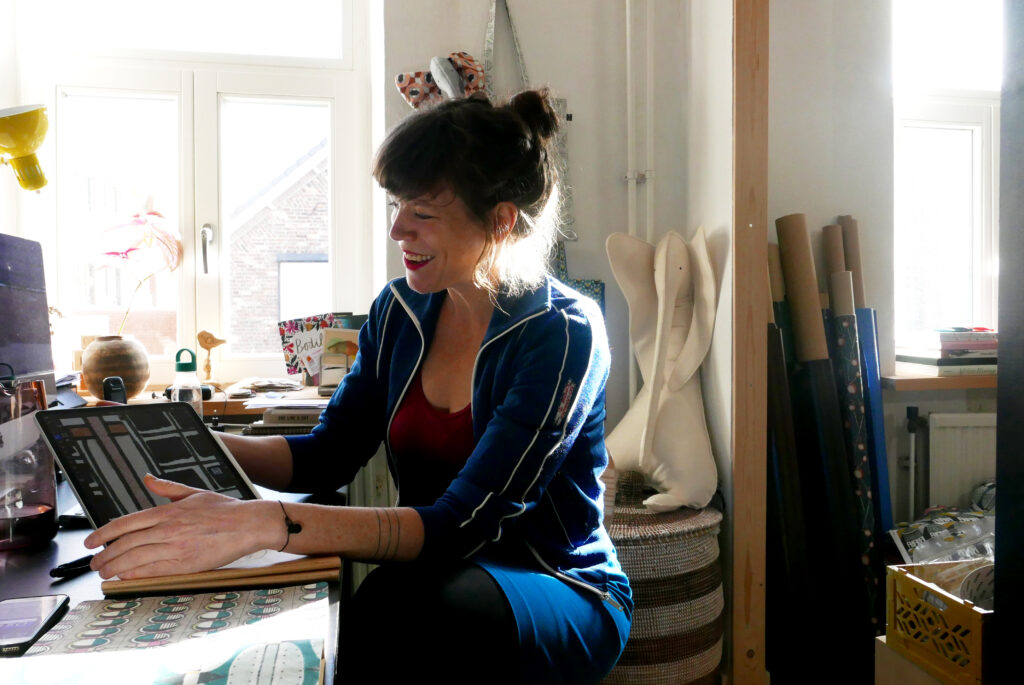 On being independent  
I cannot afford to do it otherwise; it would be way too expensive to hire someone to do work for me. It's really not easy to make money from it, what I do, you know. I don't do it for the money; I want to make money with it. But the most from what I earn, goes back into the company.  So I have to think about that a bit.  How do I really want to make a step in that. Because of the time limit and I do everything myself, I cannot really grow.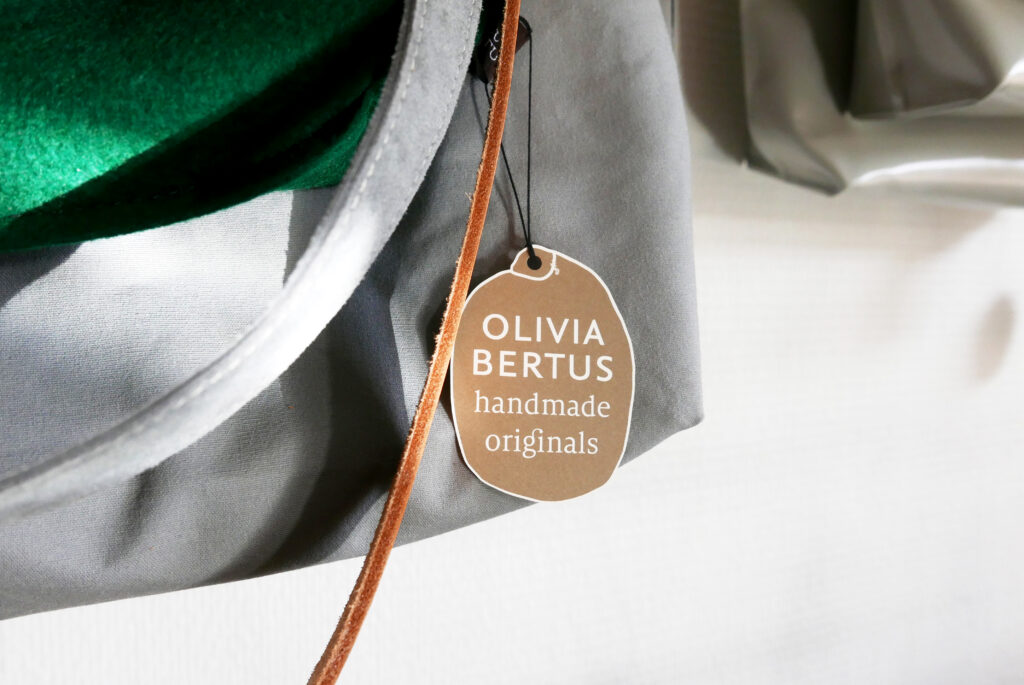 I really have this control thing, putting it out of my hands. For example I had my Ollie (stuffed animal) made by a social impact group. But it's so weird to have them back because I didn't make it, you know. I really like the part that I make everything myself. Because then you have this control and I know how it is made and that's good.  So I really like to keep it that way, but you know, then it's harder to keep the prices…like I handle it right now, especially when you sell them in shops. I don't make hardly any money like that.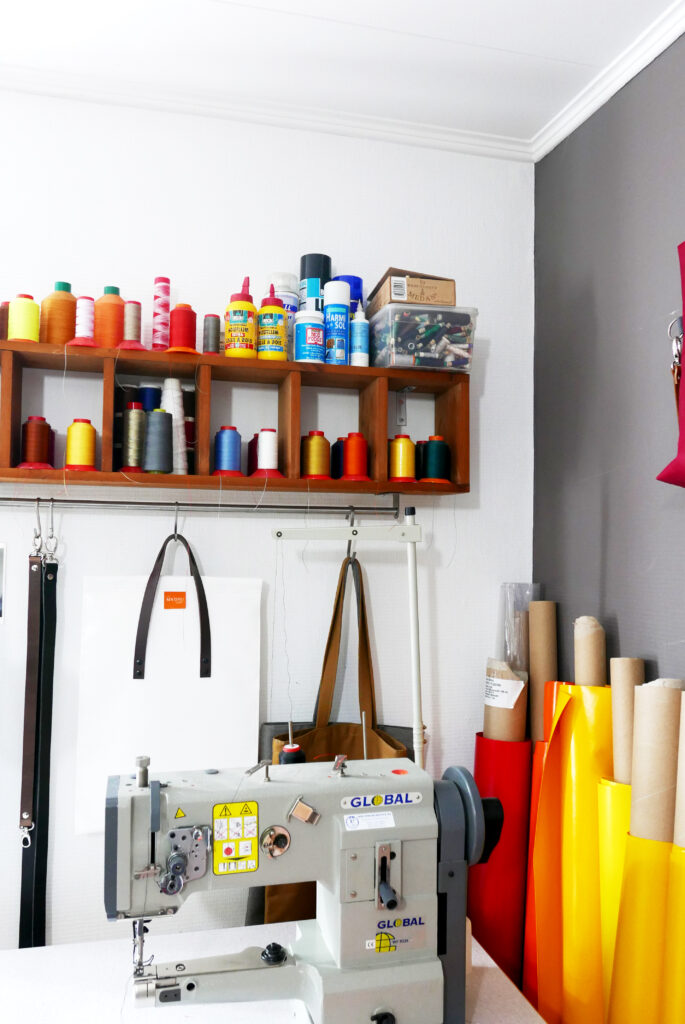 It's a little struggle that I've had since almost, 20 years…but maybe something has to happen before I really make a choice there. I don't think it will come by itself there. But maybe…I'm optimistic; something will happen and maybe if I have one sale a day, then that would be good. But if you really know what it brings me, then it's not a lot. But you have to keep going because I really believe in what I'm doing; I'm really behind it. These are all my babies here. The right time, and the right audience, that's very important of course. Let's see what the future will bring, I'm excited about that.