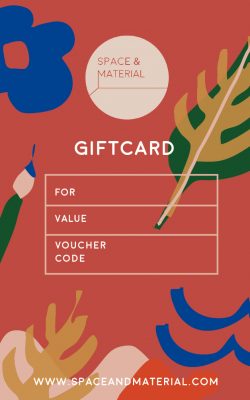 Space & Material gift cards make a creative present for anyone in your life. Give them a unique experience that will teach them something new!
They are also perfect for last-minute gifts or around the corner birthdays.
Things you need to know:
We offer gift cards for 20€, 30€, 40€, 50€ and 60€.
Only one gift card can be used per order, and it cannot be used against orders with any other promotional code. If your order total exceeds the gift voucher value, the difference must be paid by card or in person.
Take a note of your gift voucher code – if you don't spend it all at once, you can come back and shop again!
Our gift vouchers are valid for a one year from issue, so check the date in your email.
In the event that the workshop or class that you purchased is canceled, you will receive store credit.
How to purchase a Space & Material gift card:
Gift cards are available for purchase here or at Hae.
Gift cards are emailed to the address you provide when purchasing the gift card.  You may also pick up a physical gift card at Hae even if you have chosen to make your purchase online.
How to redeem a Space & Material gift card:
Space & Material gift cards can be redeemed online at www.spaceandmaterial.com or in person at Hae (Sint Jacobstraat 5, Maastricht) when registering for a workshop.
You can redeem a gift card by entering your unique voucher code into the coupon box provided during the checkout process.
Please note a Space & Material gift card is a non-refundable product, and we reserve the right to cancel a gift card at any time.