Wood shavings cover the floor of the Space & Material workspace. Our six participants are an hour into our Wooden Spoon Carving workshop and its clear that this class requires both physical strength and some mental prowess.
Wooden Spoon Carving was taught by artists Haejin Kim and Olivier Vincent, who together form ViNOK – a studio focused on creating Korean inspired wooden housewares. Though Haejin and Oliver both have full time jobs, their passion for creating unique, handcrafted products is more than a hobby.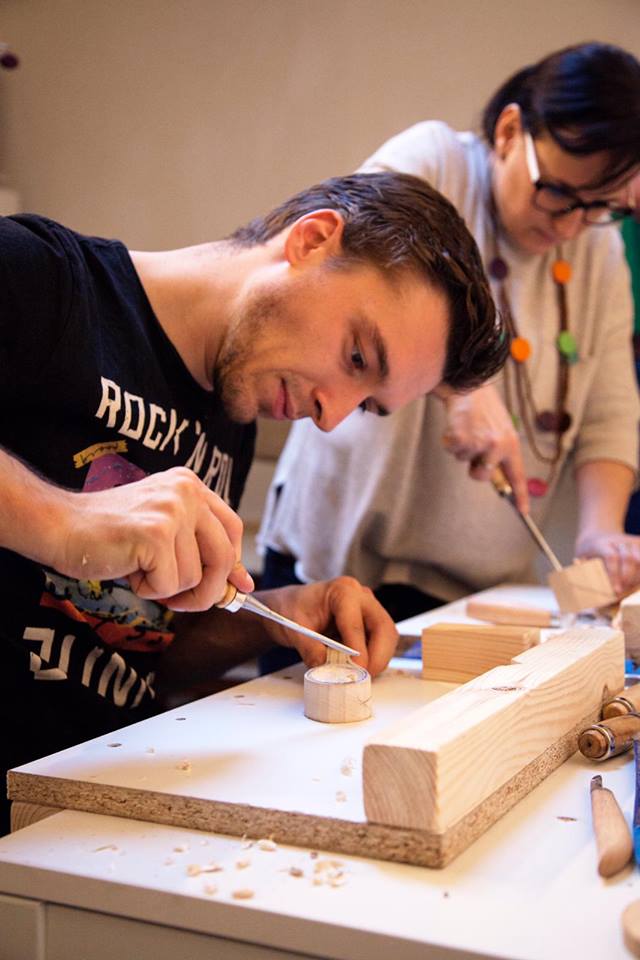 To the untrained eye, it's hard to see how a block of wood can be transformed into a spoon. But Haejin and Oliver carefully explained the process. First, they discussed the different types of wood typically used in woodcraft and why. For example, oak and walnut are beautiful for crafting wooden objects, but they are "hard" woods; so, they can be difficult for beginners to work with. Then, we reviewed the types of tools on hand for our participants to use and safety procedures when using them. Though there are hundreds of knives that can be used for the wood carving process, two were primarily used to keep things simple and to keep injuries to a minimum. Finally, we learned some techniques for cutting and shaping wood. After going over these important basics, our participants got to work.
Spoon shapes start to emerge from the blocks of wood after two hours. The process is long and there are some minor cuts and scrapes along the way, but it's a small thrill for everyone to see their object emerge and form. Before the class ends, we learn how to sand and finish our spoons, smoothing away any imperfections and adding a beautiful shine and color to our finished product.